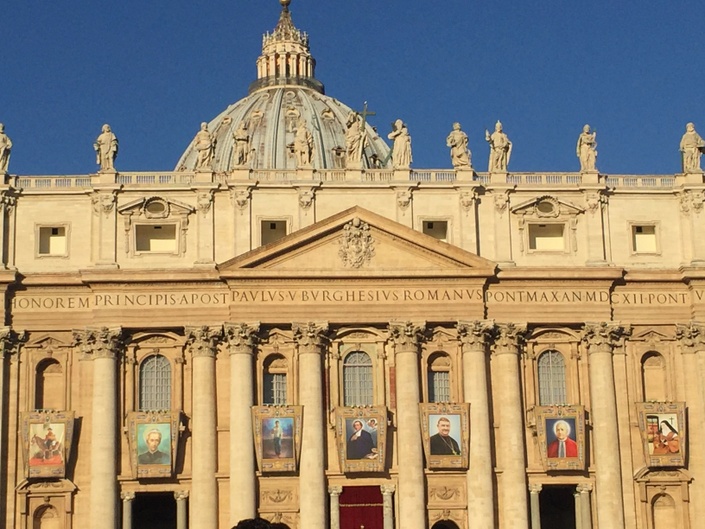 RCSC 201: A Catholic Vision of Spiritual Maturity
A coherent and integrated vision of the different elements involved in growing to spiritual maturity
Watch Promo
Enroll in Course
Originally delivered for the Institute of Psychological Sciences (IPS) – Special thanks to IPS for allowing RCSpirituality.org to re-present this course to a wider audience. This course is being offered through RCSpirituality's Online Classroom as an On-Demand Self-Paced course to go at your own pace, for learning available when you are. However, as it has been adapted from the course offered at IPS, there are references in the course lectures to additional reading and a written paper. Please note these are not required for this On-Demand Self-Paced version of the course.
This course seeks to give students an opportunity to understand and apply to their own lives a complete and coherent vision of the different elements involved in growing to spiritual maturity. It offers a practical and substantial synthesis of insights from traditional Catholic spirituality. It does not pretend to be an exhaustive or definitive presentation of these themes. Rather, it provides an approach that helps active Catholics deepen their theological insight while discovering useful tips about how to apply those insights to their busy lives.
Fr. Bartunek takes us through over 12 hours of lectures, formatted into Four Lessons. Each Lesson contains 6-10 recorded PowerPoint presentations of around 15-30 minutes each. Discussion questions are provided only for self-reflection in order to help students assimilate the material from each Lesson. Here is a list of the topics covered:
LESSON 1: Introduction and Laying the Foundation
-01Course Introduction
-02What We Mean by "Spirituality"
-03What Is the "Goal" of Spirituality?
-04What Is the Role of Jesus Christ? (part 1)
-05What Is the Role of Jesus Christ? (part 2)
-06What Is the Role of Jesus Christ? (part 3)
-07What Is the Role of the Bible? (part 1)
-08What Is the Role of the Bible? (part 2)
-09What Is the Role of the Sacraments and the Sacramentals?
LESSON 2: Morality, Sin, the Saints and Spiritual Growth
-10What Is the Role of Morality? (part 1)
-11What Is the Role of Morality? (part 2)
-12What Is the Role of Morality? (part 3)
-13What Is the Role of Original Sin? (part 1)
-14What Is the Role of Original Sin? (part 2)
-15What Is the Role of Social Sin?
-16What Is the Role of Personal Sin? (part 1)
-17What Is the Role of Personal Sin? (part 2)
-19What Is the Role of Saints and Popular Devotions?
18What Is the Role of the Blessed Virgin Mary?
LESSON 3: Prayer, the Cross, and Purification
-20What Is Prayer?
-21What Is the Role of Liturgical Prayer?
-22What Is the Role of Vocal Prayer?
-23Three Ways God Speaks to Us in Prayer
-24What Is the Role of Mental Prayer (part 1)
-25What Is the Role of Mental Prayer (part 2)
-26What Is the Role of Mental Prayer (part 3)
-27What Is "the Cross"?
-28Why Does God Permit Crosses?
-29What Is the Role of Active Purification?
-30Passive Purification and the Dark Night of the Soul
-31Passive Purification: Trials and Temptations (part 1)
-32Passive Purification: Trials and Temptations (part 2)
LESSON 4: Stages of Growth and the Devil's Opposition
-33The Three Stages of the Spiritual Life
-34Dom Chautard and the Three Stages
-35Alternative Measures for Spiritual Growth
-36States of Life and Spiritual Direction
-37The Existence of the Devil
-38The Devil and Temptation
-39Demonic Oppression
-40Demonic Obsession and Possession
-41Fr. Fortea on Possession
RECOMMENDED READING LIST
Students are encouraged to read relevant passages from the following works of Catholic spirituality.
a. The Three Ages of the Interior Life, by Reginald Garrigou-Lagrange (also available online at http://www.christianperfection.info/)
b. Christian Perfection and Contemplation, by Reginald Garrigou-Lagrange
c. The Spiritual Life, by Adophus Tanquerey (also available online at http://www.ewtn.com/library/SPIRIT/SLIFEIN.TXT)
d. Spiritual Theology, by Jordan Aumann (also available online at http://www.domcentral.org/study/aumann/default.htm)
e. The Imitation of Christ, by Thomas á Kempis (also available online at http://www.ccel.org/ccel/kempis/imitation.all.html)
f. The Summa Theologiae, by St Thomas Aquinas (also available online at http://www.newadvent.org/summa/)
g. The Fulfillment of All Desire, by Ralph Martin
h. The Virtue Driven Life, and Stumbling Blocks or Stepping Stones? by Benedict Groeschel
i. Spiritual Progress, by Thomas Williams
j. An Exorcist Tells His Story, by Gabriel Amorth
j. The Better Part: A Christ-Centered Resource for Personal Prayer, by John Bartunek
t. The Holy Bible
u. The Catechism of the Catholic Church
Students are encouraged to read one or two (or, eventually, all) of the following works, which exemplify in real lives the principles covered in the course:
The Journal of a Soul, by St. Pope John XXIII
The Story of a Soul, by St Therese of Lisieux
Autobiography, by St Teresa of Avila
The Seven Story Mountain, by Thomas Merton
Confessions, by St Augustine of Hippo
He Leadeth Me, by Walter Czizek
Under the Mercy, by Sheldon van Auken
The Pillar of Fire, by Karl Stern
The Hand of God, by Bernard Nathanson
The Cure of Ars, by Abbe Francis Trochu
The Life of St Francis, by St Bonaventure
Mother Teresa: Come Be My Light - The Private Writings of the Saint of Calcutta, by Blessed Teresa of Calcutta
Your Instructor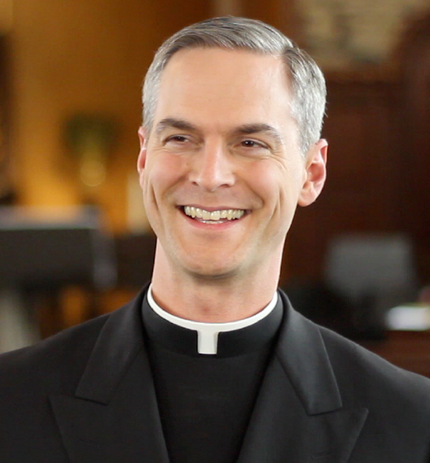 Fr. John Bartunek, LC, S.Th.D, received his BA in History from Stanford University in 1990. He comes from an evangelical Christian background and became a member of the Catholic Church in 1991. After college he worked as a high school history teacher, drama director, and baseball coach. He then spent a year as a professional actor in Chicago before entering the religious Congregation of the Legionaries of Christ in 1993. He was ordained a Catholic priest in 2003 and earned his doctorate in moral theology in 2010. He has taught moral theology at various ecclesiastical institutions at both the graduate and undergraduate levels.
He provided spiritual support on the set of Mel Gibson's The Passion of the Christ while researching the 2005 Catholic best seller, Inside the Passion, the only authorized, behind-the-scene explanation of the film. Fr. John has contributed news commentary regarding religious issues on NBC, CNN, Fox, and the BBC. He also served as the English-language press liaison for the Vatican¹s 2005 Synod of Bishops on the Eucharist.
His most widely known book is called The Better Part: A Christ-Centered Resource for Personal Prayer . It is the first of three meditation books that make us his "Complete Christian Collection". The other two are: Seeking First the Kingdom: 30 Meditations on How to Love God with All Your Heart, Soul, Mind, and Strength, and Go! 30 Meditations on How Best to Love Your Neighbor as Yourself. In 2016 he published a series of meditation books delving into the spiritual values behind the natural world: Spring, Summer, Autumn, and Winter Meditations. A compilation of his many online answers to questions about the spiritual life was published in book form as: Answers: Catholic Advice for Your Spiritual Questions. He continues answering fresh questions online at SpiritualDirection.com.
His ongoing series of Do-It-Yourself online Catholic Retreat Guides are available in multiple formats at RCSpirituality.org. Fr. John currently resides in Michigan, where he continues his writing apostolate and serves as a confessor and spiritual director.
Frequently Asked Questions
When does the course start and finish?
The course starts now and never ends! It is a completely self-paced online course - you decide when you start and when you finish.
How long do I have access to the course?
How does lifetime access sound? After enrolling, you have unlimited access to this course for as long as you like - across any and all devices you own.
What if I am unhappy with the course?
We would never want you to be unhappy! If you are unsatisfied with your purchase, contact us in the first 30 days and we will give you a full refund.
Congratulations for completing the course 'A Catholic Vision of Spiritual Maturity'. We hope you enjoyed it. You can continue growing along your faith journey discovering more courses at http://rcspirituality.teachable.com/ or go to www.rcspirituality.org for more great resources to PRAY, LEARN, GROW, and GO! as a missionary disciple.